PERSONALIZED SERVICE

Although providing high quality reference lab services is the focus of our work, we realize that we're working in concert with our clients to foster an environment that will support and improve patient care. We pride ourselves on responding to our clients needs, and customizing our services to ensure client satisfaction
UNPARALLELED QUALITY

Laboratory test results heavily influence a majority of the management and patient care decisions made by physicians each day. We understand the responsibility that accompanies each and every specimen entrusted to us. Therefore, quality and exemplary patient care are never compromised. Period.
FOCUSED ON THE PATIENT

Clinicians and their patients typically wait 2-4 days for biopsy results as a consequence of utilizing traditional overnight tissue processors. Here at UPHSM's Reference Laboratory, we fully appreciate that waiting for results can be suffocating. Patients and their families need not only accurate answers, but answers delivered quickly.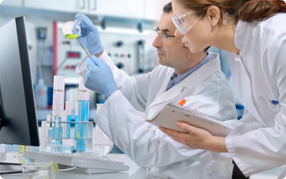 For more information on sending testing to UP Health System – Marquette Reference Laboratory, or to set up an account, please contact our Laboratory Program Director, Polly Hockberger, at (906)449-3220 or
1-888-818-3879.