Cytogenetic & Molecular Pathology
The Cytogenetics and Molecular Pathology Laboratory, located on the campus of Northern Michigan University is outfitted with the latest equipment to provide state-of-the-art cytogenetic and molecular cytogenetic testing.
Our lab boasts a highly experienced staff consisting entirely of board certified cytogenetic technologists, under the direction of a dually board certified clinical cytogeneticist and molecular geneticist.
We offer an extensive array of conventional cytogenetic and molecular cytogenetic services, including conventional cytogenetics and fluorescent in-situ hybridization (FISH) testing for both congenital and hematological specimens, we can provide accurate results in impressive turn around time, and giving you the answers you need to provide the best patient care possible.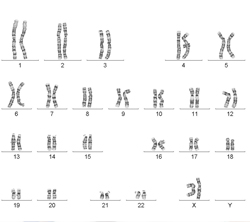 Chromosome Analysis (G-banded Karyotype):
Extensive FISH offerings including: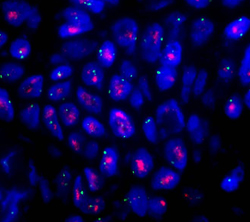 FISH Panels:
Individual FISH Hematology/Oncology Probes:
Congenital FISH probes:
For complete test offerings and details, or to order probes a la carte, please see Cytogenetic and Molecular Pathology Requisition form.
Contact Information
Cytogenetic and Molecular Pathology Laboratory
Phone: (906) 225-7980
Fax: (906) 225-7957
Monday - Friday: 6am-6pm
Saturday - Sunday (and Holidays): on call
Carrie Fitzpatrick, PhD,. FACMG
Cytogenetic and Molecular Pathology Medical Director
Email: Carrie.fitzpatrick@mghs.org
Seija Kenn
Cytogenetic and Molecular Pathology Supervisor
Email: Seija.kenn@mghs.org